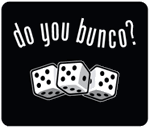 Some of our husbands like to call it "Drunko."
I've played in three different states, with at least five different basic rules. But one thing remains the same: there is nothing SERIOUS about this dice game.

It's all fun and games and drinks and chocolate. It's socializing and home decor ideas and husband bashing and kid bragging and shoe swapping. It binds friendships with stories and private jokes and sometimes, it pays for the gas to get there and the beers on the way home.

In our group there are themes and costumes... and always, always laughter. We've had some Bunko Nazis, some party crashers, some fall down imbibers and some sad sacks... we've made memories as people have moved on, as babies are born, as children grow up, as jobs change and cars crash, we are there to hear the story and clink glasses. We hold each other up in good times and bad, something the men will never understand.

This month, we had a six gal carpool for our "out of the neighborhood" Bunko, and six more ladies at the other end. Much fun, with lots of food, mojitos and a bourbon slush worthy of the Derby.
In this day, when money is tight and party planning can be a bother, it's nice to have that one night a month to count on, a night when you can let your hair down and be with women who get you- who understand the pressures and problems and questions you face every day- whether it's at work or at home, dealing with bosses, or diapers, or deadlines. We are our own best support system, and one that I hope we can grow and expand, because who doesn't need a good round of bunko to help them put life in perspective?
In bunko, even when you lose. you win.

For the ladies who couldn't make it this month... we missed you and will see you in March. And for the newbies that had fun in February, we hope you will join us again. I'm sure by then we will all have a new story to share as the dice go around.

Happy belated birthday to Karen. Who did the smart thing this year... and stayed home. Whew.